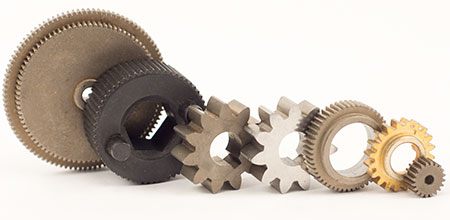 Liberty Pressed Metals is engaged in the engineering and production of Powder Metals (PM) components for use in the automotive, lawn and garden, office equipment, power tool, home appliance and Industrial and Commercial Conveyor markets in North America.
The PM process consists of molding complex shapes in presses, using custom-made dies, punches, core pins and other accessories. Molded parts are then sintered at high temperatures in atmosphere-controlled, long continuous belt furnaces. Parts bind to each other under the high heat in solid state, retaining the shape and size. Many secondary applications are available after sintering for enhanced dimensional precision, for enhanced wear and strength or for better corrosion protection.
The Powder Metal process is a ' Net Shape Process', essentially eliminating the need for expensive machining operations.